News
Amado Daniel leaves for Mexico
Rotterdam 6/7/2010 – At 19:00 pm the 105 meter diving support vessel "Amado Daniel" has departed to Mexico. Upon arrival the vessel shall, together with her sister vessel Don Amado commence in a new contract for the Mexican state oilcompany Pemex. Please look at the PDF file for some more technical information on the vessel.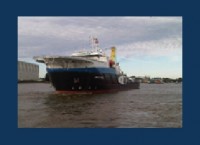 Keel laid for River Antoinette
Tolkamer, 1/7/2010 – Today the keel was laid for the luxury and innovative 135 meter river cruise vessel. The River Antoinette is build as yard number 441 at shipyard De Hoop Lobith. This complete new vessel is designed to set a new standard. The keellaying ceremony was performed on a beautiful sunny day and we hope this shall reflect in the endresult.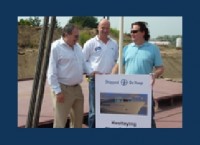 Yardnumber 431 finishes seatrials in record time
Delfzijl, 9/6/2010 – In a record time of less than two days the next generation PSV "Caballo Siete Leguas" has finished her seatrials. The vessel shall now be prepaired for her delivery and trip to Mexico/Cuidad del Carmen.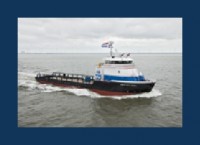 De Hoop designed Noordhoek Constructor finishes seatrials
North Sea 8/6/2010 – Shipowner Noordhoek Offshore and financer Hanzevast Shipping proudly anounce that the vessel Noordhoek Constructor has successfully completed her seatrials. The vessel Noordhoek constructor was designed and engineered by De Hoop, build at Niigata Shipyard in Japan and De Hoop has delivered the majority of all components and installations. Both yards, and clients, look back at a succesful interfirm cooperation and De Hoop is proud of the result.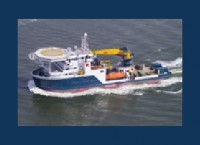 De Hoop raises KD flag for new order
Tolkamer, 7/6/2010 – The german cruising company Koln Dusseldorfer Rheinschiffahrt AG (KD) has ordered a 1000 pax. event and day-passenger vessel from De Hoop. With this KD has again shown her trust in Shipyard De Hoop, the company has been a returning customer for many years. After the delivery of the spectacular catamaran Rheinenergie in 2004, De Hoop this time has again made a complete new design. The vessel is scheduled for delivery second quarter next year. Please look a the PDF file for an impression of the vessel.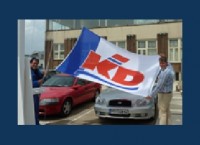 Caballo Siete Leguas ready for seatrials
Foxhol, 02/06/2010 – Today at approximately 13:00 hr, the newbuild Platform Supply Vessel "Caballo Siete Leguas" has left the Foxhol yard. This next generation diesel electric platform supply vessel, build for Oceanografia SA, de CV shall commence her seatrials next week. Please look at the pdf file for some more photo's.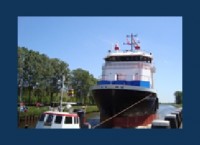 Steelcutting for yardnumber 441 started.
Tolkamer, 1/6/2010 – With the start of the steelcutting for yardnumber 441, De Hoop has started the production for Uniworld / Global River Cruises. The luxury 135 meter river cruise vessel is scheduled for delivery for the season of next year.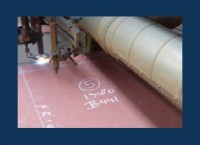 De Hoop Foxhol starts steelcutting for new Amadeus
Tolkamer 20/05/2010 – Almost directly after taking delivery of the Amadeus Elegant, client Lueftner Reisen has placed a new order. The newbuild vessel (yard number 443) is scheduled for the season of 2011 and shall be called Amadeus Brilliant. The design shall be similar to sister vessels Amadeus Elegant (2010) and Amadeus Diamond(2009), and shall be the third design with the new folding nose concept. The hull of the vessel shall be build at De Hoop Foxhol where the steelcutting started today.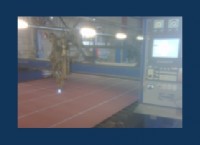 De Hoop delivers RheinFantasie
Koln, 01/5/2010 – Today Shipyard De Hoop has delivered the 85 meter eventship / daypassenger vessel RheinFantasie, our yard number 442. This vessel, with capacity for max. 1000 passengers is now ready to commence her christening ceremony on Thursday and the yearly "Rhein in Flammen" event, which starts this Saturday in Bonn. Please look at the PFD file for an article on this vessel.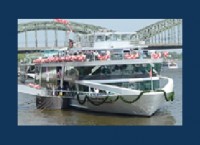 Amadeus Elegant delivered
Tolkamer, 26-04-2010 – De Hoop Lobith has today delivered the new cruisevessel Amadeus Elegant. This was celebrated by christening the vessel and doing her first maidentrip.