News
SUCCESFULL LAUNCH OF THE NEW SPIDO VESSEL
Tolkamer, 28/03/2019 – Today, at 15:00 PM the hull for the new day passenger & event vessel for Spido has been launched successfully. The main lines of the design, made by Cor D Rover, are becoming visible. The launch went smooth and the vessel is now moored in the fitting out harbor of the Lobith yard, where the further fit out and finishing shall take place. Delivery is scheduled in the second half of May.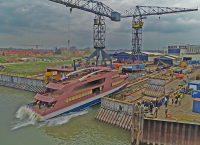 KD ORDERS NEWBUILD ENTERTAINMENT-VESSEL FROM SHIPYARD DE HOOP
Tolkamer 28/03/2019 – Shipyard De Hoop is proud to announce a new order, this time from returning client 'Köln-Düsseldorfer Deutsche Rheinschiffahrt GmbH' (KD). The vessel is a newly designed entertainment/daypassenger ship for groups up to 1000 people and shall be built under yard number 493. De Hoop and KD have a long history, whereby the vessels Rheinenergy & Rheinfantasie were the two latest deliveries. Following the successful performance of these vessels, the new concept is being further designed and detailed in close cooperation with yacht designer René van der Velden and engineering company Schiffstechnik Buchloh. The design shall have a special focus on the entertainment-operations (parties, events, etc.). Combining the experience of the two engineering teams (Buchloh/De Hoop) and a yacht designer, the aim is to build a stunning vessel, ready for many great events.
LINDE-G SUCCESSFULLY COMPLETES SEA TRIALS
North Sea, 26/03/2029 – Today the new build Multipurpose Guard & Support Vessel 'Linde-G' has successfully completed her speed and endurance trials. With 20 knots on the North Sea it was quite a spectacular ride. The vessel is today doing her DP trials and after completion the new Owner, Rederij Groen, shall swiftly commence her initial contract.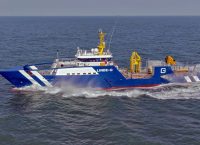 CELEBRITY FLORA ALMOST READY FOR TRIALS
Schiedam, 24/03/2019 – Following a week in the dock, the Celebrity Flora is now painted and in her final stages of completion. Many of her innovative systems are now being commissioned one by one. Sea trials are planned for 5-7 April and after that she shall be finished and prepared for the Atlantic cross-over.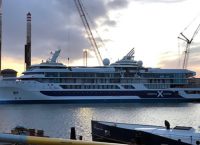 LINDE-G READY FOR TRIALS
Tolkamer 21/03/2019 – Linde-G, the new Multifunctional Support and Chase vessel for Shipping Company 'Groen' is in the final stage of preparation before she will start her trials next week. After successful trials, the delivery date will be March 29.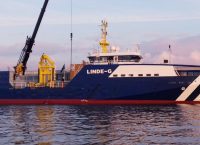 FLORA IN FINAL STAGES OF CONSTRUCTION
Rotterdam 11/02/2019 – Following a successful transport from the Lobith yard to the Mammoet quay facilities in Schiedam, the Celebrity Flora is now in her final stage of construction. The sea trials are planned to commence around March 20 and delivery is scheduled at the end of March.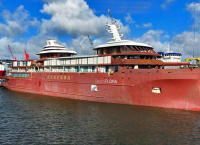 KEEL LAYING OF 'SILVER ORIGIN'
Tolkamer 06/02/2019 – Today at 11.30 a.m. the keel of Yard Number 489, Expedition Cruise Vessel 'Silver Origin' was laid on our slipway in Tolkamer. 'Silver Origin' will be part of the Silversea-Fleet and is designed for cruises to the Galapagos Islands. Delivery is planned for March 2020.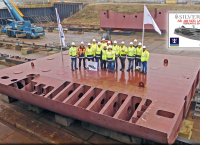 SHIPYARD DE HOOP DESIGNS & BUILDS BIRTHDAY PRESENT FOR SPIDO
Tolkamer 29/01/2019 – Shipyard De Hoop is proud to present the design we made together with Cor D. Rover for Rederij Spido. This leading tour- and event vessel operator in the Rotterdam harbour area is well known throughout The Netherlands. Over the years, De Hoop has built the majority of the Spido's fleet and when we were approached to build this 'birthday-present' for the 100 year anniversary of our client, we know we had to come with something special. Cooperation with yacht designer Cor D. Rover has led to a stunning new tour and event ship. A similar size as the others, but more luxury and high tech. The vessel is currently under construction at our yard in Lobith and is scheduled for delivery in May.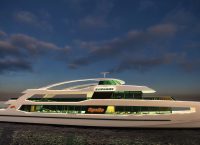 TUGBOAT 'KARASAY BATYR' BEST ICE CLASS TUG 2018
Tolkamer 23/01/2019 – We are proud to announce that our yard number NB.482, the tugboat 'Karasay Batyr' has won the title of 'Best ice class tug 2018'. The award was organized by Work Boat World, an Australian Maritime magazine. After a year of reviews of vessels worldwide, the winners were selected by a mixture of innovation, styling, finish and build quality.
'Karasay Batyr' was part of a six ship order from Caspian Offshore Constructions from Kazakhstan. For this client, De Hoop build two 'Shallow draft harbor tugs' with a 30-Ton bollard pull, and four 'tug-push boats' with 39-Ton bollard pull each. All six vessels were delivered between March and June of 2018.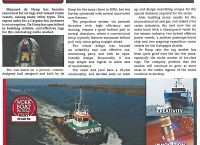 SMOOTH LAUNCH OF CELEBRITY FLORA
Tolkamer 20/01/2019 – Yesterday at 3 pm our new build Expedition Cruise Vessel Celebrity Flora was successfully launched. In a few weeks she will set course to Rotterdam where the vessel will be completed with the construction on the upper deck.