News
SHIPYARD DE HOOP DESIGNS & BUILDS BIRTHDAY PRESENT FOR SPIDO
Tolkamer 29/01/2019 – Shipyard De Hoop is proud to present the design we made together with Cor D. Rover for Rederij Spido. This leading tour- and event vessel operator in the Rotterdam harbour area is well known throughout The Netherlands. Over the years, De Hoop has built the majority of the Spido's fleet and when we were approached to build this 'birthday-present' for the 100 year anniversary of our client, we know we had to come with something special. Cooperation with yacht designer Cor D. Rover has led to a stunning new tour and event ship. A similar size as the others, but more luxury and high tech. The vessel is currently under construction at our yard in Lobith and is scheduled for delivery in May.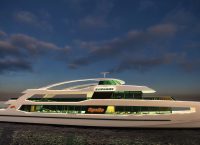 TUGBOAT 'KARASAY BATYR' BEST ICE CLASS TUG 2018
Tolkamer 23/01/2019 – We are proud to announce that our yard number NB.482, the tugboat 'Karasay Batyr' has won the title of 'Best ice class tug 2018'. The award was organized by Work Boat World, an Australian Maritime magazine. After a year of reviews of vessels worldwide, the winners were selected by a mixture of innovation, styling, finish and build quality.
'Karasay Batyr' was part of a six ship order from Caspian Offshore Constructions from Kazakhstan. For this client, De Hoop build two 'Shallow draft harbor tugs' with a 30-Ton bollard pull, and four 'tug-push boats' with 39-Ton bollard pull each. All six vessels were delivered between March and June of 2018.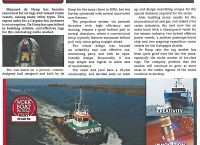 SMOOTH LAUNCH OF CELEBRITY FLORA
Tolkamer 20/01/2019 – Yesterday at 3 pm our new build Expedition Cruise Vessel Celebrity Flora was successfully launched. In a few weeks she will set course to Rotterdam where the vessel will be completed with the construction on the upper deck.
LAUNCH OF 'CELEBRITY FLORA' SATURDAY JANUARY 19
Tolkamer 17/01/2019 – Shipyard De Hoop is proud to announce that this Saturday January 19 the newbuild Expedition-Cruisevessel Celebrity Flora will be launched at 15.00 pm from the yard in Lobith-Tolkamer. Celebrity Flora is one of the largest vessels launched since the last ten years. Visitors are welcome to watch this special event.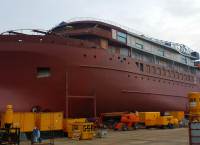 KEEL LAYING NEW SPIDO VESSEL
Tolkamer, 16/10/2018 – Today keel was laid for the build of the new day passenger vessel for Spido, our yard number 491. The design of this special vessel has been developed in close cooperation with yacht designer Cor D. Rover. The new build ship is scheduled for delivery 1st quarter next year.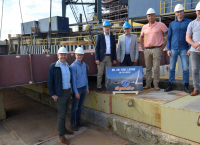 STEEL CUTTING STARTED FOR NEW SILVERSEA ORDER
Tolkamer, 8/10/2018 – Last week, Shipyard De Hoop celebrated a new order for a 100-pax Expedition Cruise vessel for Silversea. This new build vessel (to be named Silver Origin) shall be built at the yard under hull number 489. Today at 15PM the shipbuilding-process was initiated through a "start steel cutting ceremony", followed by a glass of champagne. The Silver Origin shall be designed and build for the Galapagos Islands and she is scheduled for delivery in March 2020.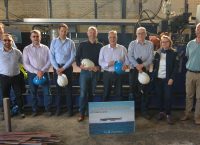 CELEBRITY FLORA WELL ON ITS WAY
Tolkamer, 5/10/2018 – With the reaching assembled sections deck 1-6, the hull for the Celebrity Flora is well on its way. The 'quality gate' was exactly as per the planning of our yard number 488. Right now the vessel is 60% ready and many works are in progress. Quite a sight to see such a nice hull on the slipway in Tolkamer.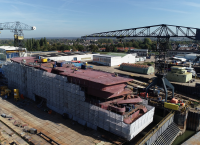 NEW ORDER FROM REDERIJ GROEN
Scheveningen 25/07/2018 – Shipyard De Hoop is proud to announce a new order. Rederij Groen has purchased a Multifunctional Support and Chase vessel with hybrid propulsion. The vessel-design is based on the hybrid propelled FSIV designs from De Hoop (nominated as "Ship of the year in 2014") and with this, the design shall be very fuel efficient. This time, the hybrid propulsion system shall be expanded with a so called "chase mode", in this mode the fuel efficiency is optimised when sailing 5 knots. This is reached by adding a generator and re-programming the hybrid-electric management system. Besides the functionality as a chase vessel, the work deck shall also be equipped with a 12tons Vestdavit for a large workboat and a crane shall be added with over 19 meter reach to allow a wide variety of services. A ship that can go over 20 knots will be a next step in the design of chase vessels, the ship shall be delivered around the end of the year.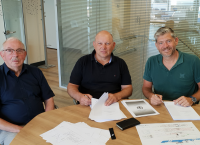 HULL 'CELEBRITY FLORA' REACHES 50% ASSEMBLY MILESTONE
Tolkamer, 28/6/2018 – With the placement of the 31st section block, the Celebrity Flora hull (our yard number 488) is halfway its erection. When ready, this 7-decks hull of the expedition cruise vessel Celebrity Flora the hull shall be 21 Meters high on our yard's slipway. The delivery is scheduled for next year, currently the production is in full swing. This shall be a unique vessel, a notable design, we look forward to getting her into the water.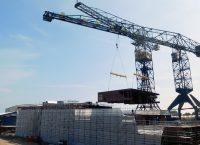 LAST TUG FOR C.O.C. DELIVERED
Foxhol, 07/06/2018 – Yard number 486, the last of a 6 –vessel order from C.O.C.(Kazakhstan) was successfully delivered on June 6th.
All 6 tugboats are now on their way to – or already – in Kazakhstan, and the first ones have commenced their works.
Remarkable note is that the date of delivery of this last push-tugboat in the series, is exactly 12 months after the contract signing. Not a bad throughput time, considering the vessels consisted out of two completely new designs…